Ethel Murray Phelps (Ethel Kitson)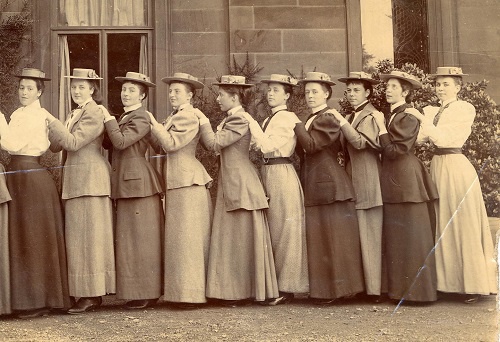 (N.C. 1895-9 Ethel Kitson is fifth from the left)
Every generation of students has its notable figures who take a foremost place in the life of the College, and are loved and admired by their contemporaries. Of such was Ethel Kitson (Mrs Murray Phelps) to those who came up in 1895 - fifty-one years ago. Her gifts of mind and character were many, and were displayed with complete lack of self-consciousness or vanity. In person, too, her fair complexion, golden hair and bright blue eyes made her vividly distinct, and she somehow managed always to preserve an exquisite trimness in the midst of the most energetic pursuits. For she delighted in vigorous exercise, whether of mind or body, and would tackle the reading for the Historical Tripos, a political argument, or a dangerous opponent at lawn-tennis with equal enjoyment. In all these directions she was in the front rank, and she seemed to achieve a First Class in the Tripos with the same ease with which she spoke from the Liberal front bench in the Political Society, or, with her steady drive and neat style, won her tennis matches. It was, of course, in the daily and nightly discussions of everything under the sun that the long range of Ethel kitson's mind became apparent. She was already familiar when she came up with political and social questions such as Women's Suffrage, Temperance, and Home Rule, and she approached them with a much more mature judgment than the ordinary student. She looked to the Liberal Party to bring about the social reforms she so urgently desired, and to justify her deeply rooted belief that progress is impossible without freedom. Frivolous Unionists eagerly enjoying her hospitality might smile to see the signed photograph of Mr Gladstone presiding over the cocoa party, but they carried away with them unfading impressions of a resolute mind, a spirit active in goodness, a cheerful and warm friendliness.
Her marriage, not long after going down, to Murray Phelps, took her from her home near Leeds to Birmingham where most of her married life was spent. Absorbed as she was by a most happy family life and by the upbringing of four children, she yet remained as alert as ever about public questions, and she never forgot Newnham or the friends she made there.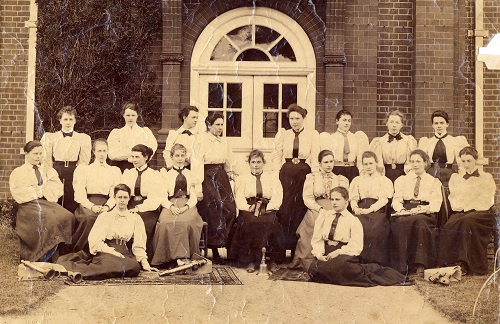 Ethel Kitson is in the middle row, fourth from the left.