Autobiography of Beatrice Kitson
Adolescence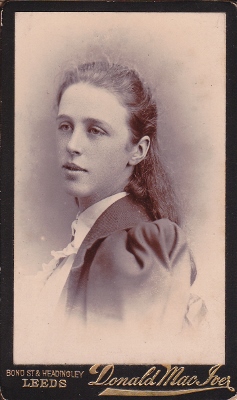 My year at school was different - I entered keenly into the joys of gym and games of which we had a full share, playing both cricket and football. It was before hockey had become common in girl's schools. Being rather old at 17, I was lucky enough to get into the upper class in literature and history, with a mistress (half Russian, half English) who really interested me. I owe it to her that I left school with a keen love of reading, especially books on history. I have kept a record of every book read since the age of eleven and should be interested to know how it compares with other people's. Looking back now it seems to me that Mrs Gruner was the only one of all my teachers and governesses who was keen herself and so gave one a desire for knowledge. Certainly I cannot remember any of the governesses being enthusiastic about any subject, barring one when I was too small to profit by it much. They all gave one the impression of teaching because they had not been trained for anything else and it was the genteel way of earning a living. Being the only one at home and supposedly delicate, I was not made to really work at anything. As a result, I was taught very little, certainly by present day standards.
However, our education was going on in other ways. My father was a great climber and went on expeditions with Whymper and most of the famous men among the pioneers. He had accomplished many first ascents. When he finished climbing, he liked to go driving all over Switzerland and the Tirol. We used to spend three or four weeks at a time, moving on daily from place to place. We always went with a great carriage and four horses. We always had the same driver, a most unimpressive-looking Swiss man but a marvellous driver and an interesting and cheery little fellow. Two feats of his especially do I remember: it was an unfailing joy to be allowed to sit beside him on a box seat, work the extra brake and even occasionally hold the reins when going uphill. Later on we paid several visits to Italy and saw the galleries pretty thoroughly. Though during the Paris period we had indulged in the usual youthful admiration for Murillo and Bougereau, the early Italians promptly replaced them in my affection, I am glad to say.
However, since I knew nothing of painting, my chief interest for some time was to go from picture to picture identifying the various saints by their symbols. I was soon qualified to pass a searching examination on them. Our visits were not confined to the big towns, we also went to Assisi, Siena, Ravenna and Rimini, that little-known place with its beautiful Renaissance bas reliefs which Francesco executed in honour of his concubine under the auspices of Sigismondo of Alatesta, He was a strange mixture of cruel Barbarian, patron of art, lover of learning and unscrupulous condottiere. It was probably this last visit which was responsible for the subject of my first Owl paper. The House of Este, though we did not penetrate as far as Ferrara. Of all the churches that we visited in our travels two struck me pre-eminently as being filled with an atmosphere of worship, San Marco and the lower church at Cissesse. One feels instinctively on entering them that within those walls men's hearts through the ages are being lifted up in love and worship; the sense of a presence before which men bow in humble adoration.