Leeds' first woman Lord Mayor, Miss J. Beatrice Kitson, 1942/3
By Margaret L Suttenstall
1988
(reproduced by kind permission of her son, Mr J.M. Suttenstall)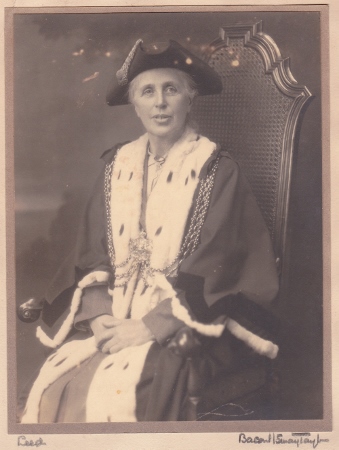 In 1937 Miss J. Beatrice Kitson said "I think that some day Leeds might have a woman as Lord Mayor." Just five years later – on Nov 18th 1942 – she fulfilled her own prophecy.The circumstances leading to her becoming Leeds' "First Lady" were very tragic. On November 9th 1942, Councillor Arthur Clarke (one of only two Liberal members of Leeds City Council) collapsed and died a few minutes after being elected Lord Mayor of Leeds. It was suggested that Alderman C.H. Boyle, who had been Lord Mayor in 1939, should be deputy Lord Mayor, and it was agreed, between all parties, that the choice of Miss J. Beatrice Kitson (as a non-party candidate) was an excellent one. Miss Kitson was one of the first women magistrates to be appointed in Leeds and came from an old and distinguished City family. Her grandfather, Mr James Kitson, was Mayor in 1860. Then in 1896 her uncle, Baron Airedale, was elected Mayor. He too was not a member of Leeds City Council. In 1897, to mark Queen Victoria's Diamond Jubilee, he was created Lord Mayor of the City of Leeds. In 1908 her late cousin, Frederick James Kitson, was Lord Mayor.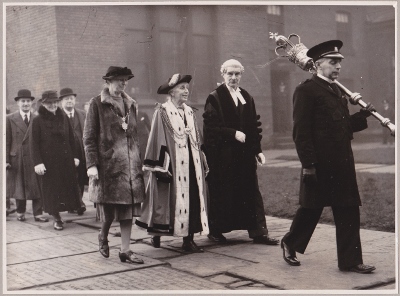 As well as being a magistrate, Miss Kitson was involved as a member of the Council of the Yorkshire Federation of Women's Institutes and President of Meanwood Women's Institute. She was also actively involved in charity work. Her Lady Mayoress too was associated with a prominent Leeds family. Miss Elinor Lupton's family had provided Leeds with a Mayor and two Lord Mayors. Both Lord Mayor and Lady Mayoress were members of the Leeds Soroptimist Club.At her inauguration, Miss Kitson wore a black coat and hat. It was decided that, owing to the circumstances of the occasion, it would be fitting if the civic robes were to be worn for the first time at the Civic Service on the 22nd November 1942 at the Parish Church. The robes had to be shortened, as Miss Kitson was quite diminutive. The Lord Mayor's hat posed another problem. There was no question of altering it. Miss Kitson refused to wear it, saying of its Napoleonic structure, with ostrich feathers, "There has never been a Lord Mayor yet who didn't look foolish wearing that hat". So a smart tricorn was made – with no feathers. Already Leeds' first woman Lord Mayor was proving a lifelong friend's remark "that she would always tell you exactly what she thinks."Miss Kitson quickly endeared herself to all Leeds citizens.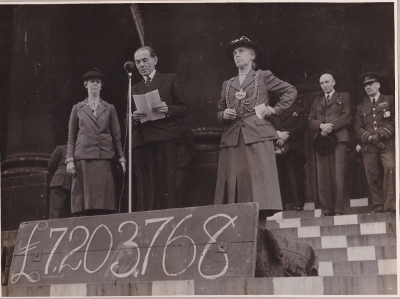 The war was already into its fourth year, and she was determined to give the lead to Leeds at every possible occasion. She used her own car to travel from her home Stonegates in Meanwood to the Civic Hall, and also walked on every possible occasion. At her 'At Homes' there were no bouquets or floral arrangements. She, together with her Lady Mayoress, worked tirelessly for many charities, and particularly those connected with the war effort. June 26th to July 3rd was Wings for Victory week. This proved to be the stiffest week of her term of office. The target for each city was based on a 'per capita' of the population. Each day an indicator was set – the first by Lord Kindersley, President of the National Savings Committee. Each day, together with Sir Charles Davies (Chairman of Leeds National Savings Committee) the Lord Mayor was present, and urged her people to contribute more. "We are sending up the indicator in order that we may send down bombs. If we can make our attacks more concentrated then we shall be able to destroy not only German munition works and ports, but also dislocate the German transport system. This will prevent them from sending munitions and arms to the soldiers in the field. If we do that we shall have what is equivalent to a great victory. To do that, we must provide more and more bombers. We want to concentrate all our efforts into this week in order that we in Leeds may do our share in providing these bombers."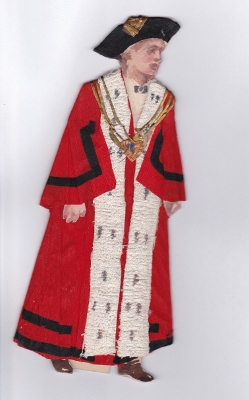 The Lord Mayor welcomed to the city on July 1st 1942 the Duchess of Gloucester, who was wearing the uniform of the Women's Auxiliary Air Force, of which she was head. This was Women's Day in connection with the City's Wings for Victory week. The Lady Mayoress, thanking the Duchess, said her husband was one of the leaders of our Armies and as a mother herself she knew of the anxieties of millions of wives of serving soldiers, and millions of mothers who were thinking of their children's future and hoping that the world in which they grew up would give them their chance of happiness and useful service. The world designed by Hitler was a denial of all that made life worth living, a world of hatred, discord, cruelty and treachery, against which we must struggle with all our might. To shorten the war meant saving life and to shorten the war we must provide more planes and other weapons.
Other prominent people who visited Leeds during Wings for Victory week were Air Chief Marshall Sir Robert Brooke-Popham (the Headingley and England international rugby player), Air Commodore G.A. (Gus) Walker, King Peter of Yugoslavia, Lord Harewood, and on the last day the astonishing total of £7,203,768 was announced by Major J. Milner MP.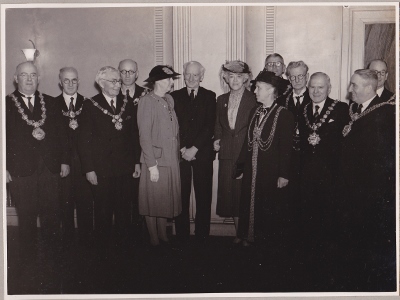 Although there was austerity during the war years, many luncheons were held, and during Miss Kitson's year of office many great and famous people attended the Civic Hall. Prominent parliamentarians such as Ernest Bevin (Minister of Labour), 'Rab' Butler, W.H. Beveridge (President of the Board of Education) and Hugh Dalton (President of the Board of Trade), were guests of honour. The Princess Royal (Mary as she was known to Miss Kitson) was a frequent royal visitor to the City, and also a personal friend of the Lord Mayor. The Duchess of Kent and the Duchess of Gloucester also attended luncheons in their honour, as did Lady Louis Mountbatten. Their men folk were serving in the Armed Forces and they kept the flag flying in Leeds during the war years.
Miss Kitson also made hundreds of other visits both personal and to charities, hostels, hospitals and schools during her year as Lord Mayor. As a nine year old I remember her visit to Coldcotes School and the great disappointment that our special visitor was not dressed in the robes I associated with Lord Mayors. I was surprised to see that our Lord Mayor was a woman. Perhaps my teacher had not explained clearly just how great an innovation we were experiencing in Leeds. I had never met a Lord Mayor before, and my concept of Lord Mayor was Whittington – Lord Mayor of London!
At a press luncheon held just before Miss Kitson ended her term of office, Mr W.L. Andrews, Editor of the Yorkshire Post, made the following comment of this unique event. "As one who helped women to get the vote, I am extremely glad that we have seen in Leeds this year that women are as capable of civic statesmanship as any man. We did not fight for the strengthening of the dividing line between the sexes, but for greater co-operation between men and women."The experiment in Leeds has proved a triumphant success. It was another sixteen years before another Lady Lord Mayor was to be elected. There have only been ten first ladies in Leeds and never again has one been elected who has not been a serving member of Leeds City Council.