The Peyton Family
The Peyton Family of Tardebigge and Birmingham
Compiled in 2020 by Penelope Forrest and Anthea Boylston from various sources
The Peyton family descended from William Malet de Graville, who was present at Hastings in 1066, and took the name of Peyton in the twelfth century when Reginald Peyton, grandson of William Malet, was enfeoffed [given land or freehold property in return for pledged service] by Hugh Bigod, Earl of Norfolk, in the manors of Peyton and Boxford in Suffolk. Peyton Hall still exists, and is thus known to this day. Reginald's descendant, Sir Thomas Peyton, of Isleham, Cambridgeshire, who lived between 1415 and 1484, was Sheriff of Cambridgeshire and Huntingdonshire. He rebuilt St Andrew's church in Isleham and was twice married.
His first wife was Margaret Bernard, one of the daughters and co-heiresses of Sir John Bernard (whose effigy survives in Isleham Church), Lord of the manor of Isleham, through which marriage he inherited that manor. By Margaret Bernard he had many descendants including members of parliament and a number of Peyton baronets. Sir Henry Peyton, who married Lady Jane Seymour, a first cousin of the young king Edward VI, may also have belonged to this illustrious branch.
"Sir Thomas's second wife was Margaret, daughter and heiress of Sir Hugh Francis, by whom he had much land and many children, and from whom are descended the Peytons of Bury St. Edmunds, Warwickshire, Worcestershire, etc." Guillem's Rouge Croix Pursuivant of Arms (1561-1621) so writes in his "Display of Heraldry". The Tardebigge branch claim descent from Thomas, a grandson of Sir Thomas and Margaret Francis, and son of Francis Peyton of Bury St. Edmunds and his wife Elizabeth Brooke.
Phonetic variations in the spelling of the family name are found in early records even in Suffolk, and are found in those of Tardebigge. Payton, Paiton, Paitwen, Paytwen, Paytwyne and Paytwene have all been found in old Deeds and Wills.
This grandson Thomas, 1475 to 1554, married Mary Ellen Patton and is described as "of Sidnall Grange". Their son John, "of Whalley farm", born in 1501, seems to have married at least twice and had children by both wives. The Peyton family of Worcestershire had an unfortunate habit, as far as the genealogist is concerned, of alternating the names Richard and Abel. The first Richard Peyton, eldest son of John, was born in 1574. He bought Cattespoole in the Liberty of Cobley and parish of Tardebigge in 1622. This estate remained in the Peyton family for more than 300 years. Various different spellings of Cattespoole are found in early records. The name is thought to originate from the medieval 'catchpole', originating in the old French 'cachepol' which was an object designed to apprehend thieves through trapping them by the neck with a long pole.
Richard died in 1639 at the age of 65 years at Whalley Farm just north of Cattespoole, followed by his wife Joan in 1641. Their son, also called Richard, was born in 1615. He rebuilt the house at Cattespoole in 1639-40. Stephen Price, in his book A History of Cattespool, described it as one of the finest early 17th century houses in Worcestershire. Janet Baines, who lived there after the Second World War with her husband Guy and family, mentioned the three seater privy still to be found in the garden. The house had belonged to the Harrison family but was enlarged and rebuilt by Richard in an H shape, with a hall in the centre and a wing on either side. Other additions were made later in the 17th century. Richard died in March 1696 at the age of 81.
The eldest son of Richard and Abigail Peyton was the first Abel. He died in 1729 but makes no mention of Cattespoole in his Will. The property passed to his son Richard ("gent") and then his son Richard (fishmonger) and then to his eldest son, the heir at law, Edward Ireson Peyton. This Edward was either in need of money or simply not interested in a rural property, and he sold Cattespoole to his father's younger brother, Abel Peyton.
Cattespoole was held under "copyhold", a form of customary tenure of land common in England from the Middle Ages. It was therefore not bequeathed but passed automatically to the "heir at law". This is why some of the Wills specifically excluded this property while others simply didn't mention it. Copyhold tenure was finally abolished in 1926 and the current owner held the property by freehold. From 1622 onwards the Peyton family retained the copyhold of Cattespoole, although later generations would have another home somewhere else. Already near the beginning of the 18th Century, we have come across younger sons who had moved to London or Stratford on Avon, and were fishmongers, mercers, merchant tailors or hop-merchants. We have found and transcribed the Wills of three Abel Peytons and the one made in 1874 mentions that Cattespoole will descend to his heir at law and estimates its value at £3,000. He says that the estate is at present occupied by William Partridge, who was presumably either his brother-in-law or another relative.
Members of the Peyton family emigrated to Ireland, to New Zealand in 1860 and also to the USA in the 17th, 18th and 19th Centuries and flourishing Peyton Societies exist in America. Descendants of the American branches have paid visits to England at times, where they were welcomed by the Baines family at Cattespoole and also conducted to Isleham by Cynthia Morgan-Smith, née Phelps.
The Peyton arms are: sable, a cross engrailed or, a mullet in the first quarter argent. The crest is a griffin. The motto is Patior Potior, (As with many other ancient Latin mottoes, it is difficult to translate, while retaining the spirit of the original language. "Through suffering, I prevail" may be a better rendition than the more literal "I suffer, I obtain" or "I endure, I enjoy".) Rachel Cunynghame, daughter of Dr and Mrs Baines who had bought the house in 1948, told us that the Peyton coat of arms is above the fireplace there.
Let us now return to the story of Abel Peyton (1722 to 1801) who purchased Cattespoole from his nephew. He was married to Hannah Shaw and had a house in London where the family lived, although in his Will he describes himself as "of Catspool". He doesn't mention Cattespoole at all among his bequests, but leaves his wearing apparel to the said nephew Edward Ireson Peyton. His life is documented in much more detail than his predecessors' thanks to his older daughter Margaret who kept a diary. Abel and Hannah had four children who survived to adulthood: Richard, Margaret, Elizabeth and Abel born in 1753, 1755, 1757 and 1760 respectively. They also had eight children who died in infancy. Since the family was non-conformist, the baptisms of surviving children were all registered at one time with Dr Williams' Library in Redcross Street, Cripplegate, London; three were conducted by the Reverend Francis Spilsbury and Elizabeth's by Mr Fleming.
On 29th October 1779 Margaret records 'I lost my ever valued Parent, she was buried in Bunhill Fields new ground Nov. 3rd by the Rev. Mr. Spilsbury who preached her funeral sermon, Nov 14th, from Job 9 and 12 verse. "Behold, he taketh away, who can hinder him? Who will say unto him, What doest thou?" Bunhill Fields was a burial ground in Islington where famous non-conformists like William Blake, John Bunyan, Susannah Wesley and Daniel Defoe chose to be interred. It was used for burial from the 17th to 19th centuries. In the 18th century Protestant dissenters preferred to adhere to the teachings of the Bible and did not believe in the Trinity. They were against the teachings of the established church and in particular the Book of Common Prayer.
Aunt Margaret in her diary also tells us "My dear brother married to E.A. Fortune 16 Sept. 1795 at Tardebig by the Rev. Mr Richards." The brother in question was Abel and Hannah's eldest son, Richard, who married Elizabeth Ann Fortune. George Richards is listed as Curate-in-Charge at Tardebigge from 1780-1818. There were two religious institutions in Tardebigge: one was the parish church which was dedicated to St Bartholomew and the other was a simple chapel attached to Bordesley Abbey which survived the Reformation because, like the parish church, it was deemed to be used by the common people and not the monks. The chapel fell into disuse at one point in the 18th century but was reopened and still available for parish services up until 1805 when it was finally pulled down and henceforth baptisms, marriages and burials had to take place at the parish church. This chapel, which would still have consisted of a simple nave with no chancel or side chapels only served about 13 families. The diary does not specify whether the wedding took place in the parish church or the chapel. However, the Peytons being a non-conformist family probably preferred the simplicity of the latter.
Richard was an entrepreneur and was to become a pioneer in Birmingham's industrial revolution. Again, Margaret states that 'Brother Richard and Mr Cockle (?) opened shop in Birmingham 9 May 1781.' I suspect that her handwriting was misinterpreted by the diary typist since Richard Peyton set up his business as a 'chymist' at Oxygen Laboratory, Aston Wharf around Christmas time in 1803. The partnership was entitled Collard and Peyton.
Margaret's only sister Elizabeth is mentioned: on 6th December 1783 'My much loved sister was married to Mr. W. Phelps at Criplegate Church by Dr. Hand – set off from Gravesend Jan. 16, 1784, sailed from thence for Madeira 18 Jan. 1784.' This was the first of a number of marriages between the two families. It is probable that they first met in London. William and his brother Joseph had recently left their home town of Dursley in Gloucestershire and moved to London where they became "Madeira Merchants" and we know from Abel's Will that the Peytons had a house there. While Joseph ran the London office, the office at Carmo House in Funchal, Madeira was under the care of William and Jem Morrisey, who became a partner in 1790.
William and Elizabeth were to live in Madeira until July 1801 when, William's brother Joseph having died, he returned to run the London end of the business. They sent their future son-in-law Robert Page to be in charge of the counting house in Madeira. Robert had set out for the island in November 1800 but the ship was taken prisoner so he found himself back in London on 13th January, only to set off again in March, finally arriving safely after a voyage of two weeks. The Napoleonic wars were raging at the time so travel by sea was fraught with danger.
Margaret describes the return of William and Elizabeth thus: "Brother and Sister Phelps with Ann and Charles landed at Poole 16th July, arrived in London 23 same month. I met them with the 5 children on the 25th." For the previous four years, two of the daughters, Eliza and Mary, had been educated in London at 'Mrs Crisp's' boarding school, Newington. Fleetwood School in Stoke Newington, North London, was run by Elizabeth and Sarah Crisp specifically for the children of dissenters. There was said to be a secret room in the upper part of the building where non-conformists had been able to hide during the reign of Charles II and seats were reserved for the girls at nearby Newington Chapel. Two years after the family returned to England, on 22nd March 1803, the eldest daughter Eliza would marry Robert Page at St Pancras and sail for Madeira to run the Phelps & Page Partnership for the production and shipping of Madeira wine.
Meanwhile Elizabeth and William's two eldest sons, William and Abel Peyton Phelps, went to study at The Reverend Mr Burford's in Stratford Grove. The Rev. Peter Burford was a Master at Archbishop Harsnet's Free Grammar School in Chingford, Essex. It specialised in teaching the Classics. Their brother Joseph joined them at Mr Burford's in 1799, although he subsequently went to Winchester College to study. The grammar school at Chingford had been established by the Archbishop of York in 1629 and one of its early pupils was William Penn, who founded Pennsylvania. It is said that he came under Puritan influences at the school.
On 18th May 1780 Margaret describes how "Brother Abel left Town ... sailed from Portsmouth June 4." He was bound for Bengal to join the Honourable East India Company Service. There were four armies serving the Presidency and Abel became a Lieutenant in the 9th Cavalry Regiment. Unfortunately, his luck ran out and on 4th June 1782 Margaret received "an account of my dear Brother Abel's death in the Kingdom of Bengal on Dec. 5 1781." Margaret herself travelled frequently between London and Mosely in Warwickshire. Her father Abel died in 1801 and was buried at Tardebigge.
Although he had moved to Birmingham in 1781 and set up his laboratory in 1803 with Mr Collard, Richard Peyton is first listed in the Birmingham Trade Directories as a manufacturing chemist in 1808. He lived in Camp Hill in the Bordesley District with his growing family. His first laboratory was in Holt Street, which is close to the canal and in that part of the city where Aston University is situated today.
By 1822 his older son Abel, then in his early twenties, had joined him in the business which ibecame Peyton and Son. It expanded quickly with the setting up of a factory at the junction of Oxygen and Lister Streets, where they manufactured Roman vitriol and blue verditer. These were chemicals which were used in processes such as metal working and japanning and consisted of sulphuric acid, copper sulphate and copper carbonate. They were in the centre of the industrial area of Birmingham and so very conveniently situated, in addition to being able to bring in materials via the canal. Richard died in 1833 and Abel took over the running of the chemical works.
By 1840 it was doing so well that he was able to move to the leafy suburb of Edgbaston, where he settled with his wife Elizabeth at Oakhurst in Church Road on the edge of the Carpenter Road Conservation Area with its wonderful Regency terrace. As often happened with second generation entrepreneurs in the Industrial Revolution, Abel became a man of substance. He was a member of the Institute of Mechanical Engineers, a member of the Committee of Management of the Birmingham Savings Bank from 1857 to 1862 and its Chairman in 1861. In addition, he was involved with the construction of the Birmingham and Derby Junction railway (B&DJR), which opened for traffic in 1839, and became a Director of that, its successor the Midland Railway Company (operational from 1844) and the Welsh Midland Railway. It may be no coincidence that the B&DJR had one branch that terminated at Aston.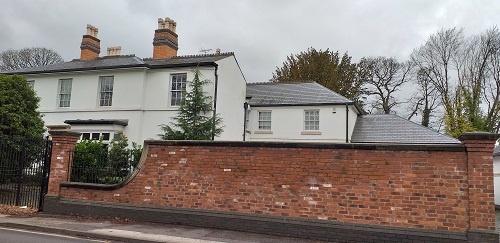 Oakhurst was built in about 1835 on land leased from the Calthorpe Estate. It is still in existence today because in 1952 it became home to the Birmingham School of Speech Training and Dramatic Art. Most of the 19th century houses in Church Road have been demolished to make way for Birmingham University buildings. Unfortunately, the Regency garden was destroyed by subsequent owners but it is hoped that the crinkle crankle wall down by the canal remains.
Abel and Elizabeth had three sons and three daughters. Their sons all went into business in Birmingham. As well as continuing the chemical laboratory, they set up a factory making brass and iron bedsteads at the Bordesley Works. They also made bicycles and various metal fixings such as pins. Richard set up a partnership with Jonathan Harlow and had offices in London. His brothers, Edward and Henry designed the bedsteads. Unfortunately, there was a bankruptcy hearing in 1884 when Peyton and Peyton ran into financial difficulties after 30 years in business. However, Richard died a very rich man in 1910. He was a patron of the arts, particularly music, and left large sums of money to local hospitals and other charities in his Will. He also inherited Cattespoole from his father. Despite being married twice, unfortunately neither of his two children survived infancy.
Of the three daughters, Fanny married Robert Chance who was also a Birmingham business man with interests in the chemical industry and making bedsteads, Augusta married George Ingram and went to live in Great Malvern. Meanwhile Caroline married her second cousin Captain Arthur Phelps of the Bombay infantry at St Thomas' Cathedral in Bombay. Arthur was posted to Aden where two of their four children were born, Malet in 1869 and Murray in 1871. Aden was part of the Bombay Presidency. Their third and fourth children, Elsie and George were born in India, at Poonah and Hyderabad. Malet and Murray were largely raised by their grandparents, Abel and Elizabeth, at Oakhurst in Edgbaston. Both Augusta and Caroline had beautiful voices and it was during a visit to their home in his teenage years that the young Arthur became attracted to Caroline owing to their shared love of music.
Since Richard died without any surviving children, Cattespoole passed to the son of his late brother Edward Peyton. Thus Ernest Phelps Peyton inherited the estate in 1910. (Ernest Phelps Peyton was presumably given his mother's maiden name. She was Charlotte Lloyd Phelps of an Irish family, so probably not related to the Dursley Phelpses.)
He was living there in 1935 when Natalie Crompton visited England and was taken to see the property which had become a legend in the family. She mentioned that the house contained many old family portraits. It was largely in the hope of finding out what had become of these, that we started our hunt for Wills of early Peytons. Ernest died in 1940 and Cattespoole was inherited by his daughter Evelyn Gilpin-Brown. It was in need of extensive work and she sold it in 1946 to the Hollick family, who carried out repairs, put in electricity and water and then sold it with 100 acres, to Dr and Mrs Baines for £12,000 in 1948.
From Abel's three sons, we know of only five male bearers of the Peyton surname, born between 1875 and 1900, but have no further information about any of them and are not in touch with any close Peyton relatives. We do know of one more marriage between the Phelps and Peyton families when a granddaughter of Fanny Chance married Joseph Bryan William Phelps in 1908.